The Comprehensive Asia Development Plan (CADP) 3.0: Towards an Integrated, Innovative, Inclusive, and Sustainable Economy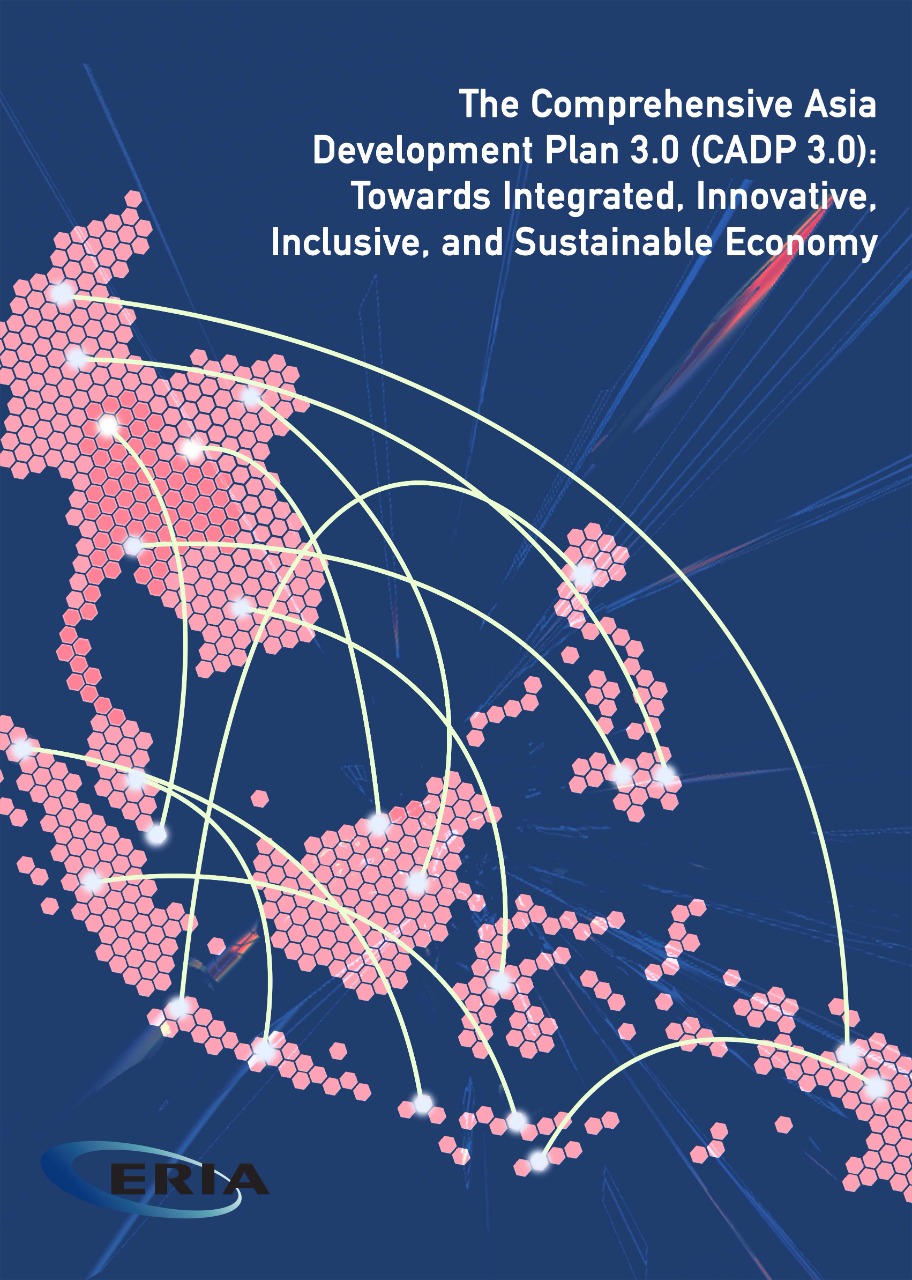 Category:
ASEAN, Connectivity, Education and Human Capital, Energy, Environment and Climate Change, Finance and Macroeconomy, Global Governance and Multilateralism, Healthcare and Ageing Society, Innovation and Technology, Services, SMEs, Trade, Urban Development
Tags:
CADP, Innovation, Digital Economy, Sustainable Economy, Infrastructure, Urban Development, automotive, healthcare, Agriculture, Energy, Environment
The coronavirus disease (COVID-19) pandemic has caused trade disruptions; a drop in foreign direct investment; and scarring effects on poverty, education, and women in many nations. However, it has also had beneficial features. Factory Asia has continued to produce and export during the pandemic, in contrast with North America and Europe. COVID-19 has boosted digitalisation, notably in information and communication technology (ICT). The adoption of ICT has boosted economic growth. Maintaining the competitiveness of international production networks and utilising digitalisation are essential to the region's future post-COVID-19.
Based on this understanding, the Economic Research Institute for ASEAN and East Asia (ERIA) has developed the Comprehensive Asia Development Plan 3.0 (CADP 3.0). Since the previous version (CADP 2.0) in 2015, nearly 7 years have passed. CADP 3.0 addresses the above-mentioned urgent concerns and discusses economic growth and social problem-solving in the region from the viewpoints of (i) integration, (ii) innovation, (iii) inclusiveness, and (iv) sustainability. CADP 3.0 comprises 18 original chapters on the four viewpoints and digitalisation.
First, CADP 3.0 claims that integration is at the core of development strategies. The Association of Southeast Asian Nations (ASEAN) and developing East Asia could use three forms of the international division of labour (the first to the third unbundlings) simultaneously. To stimulate economic growth, the region should adhere to globalisation. Second, CADP 3.0 asserts that digital technology has transformed the nature of innovation. ASEAN and East Asia must move from intensive research and development (R&D) to technology deployment. Combining incremental and disruptive innovation could revive creative manufacturing. Third, CADP 3.0 declares that inclusiveness in its three dimensions – geographical, industrial, and social – is a core value for ASEAN and East Asia. Before resorting to income/welfare redistribution, the region should employ economic forces to achieve inclusiveness wherever practicable. Last, CADP 3.0 affirms that sustainability must be realised through economic expansion and improved well-being. Decarbonisation, resource management, and disaster management are not just long-term objectives but also present challenges. The use of new technology will facilitate international cooperation in establishing a circular economy.
Full Report
The Comprehensive Asia Development Plan (CADP) 3.0: Towards an Integrated, Innovative, Inclusive, and Sustainable Economy
Contents
Chapter 1 The Conceptual Framework of New Development Strategies
Fukunari Kimura and Keita Oikawa
Part 1 Integration
Chapter 2 Trade Facilitation and Non-Tariff Measures
Salvador Buban and Ha Thi Thanh Doan
Chapter 3 The Importance of Regulatory Coherence for Connected and Integrated ASEAN
Intan M Ramli and Mohd Yazid Abdul Majid
Chapter 4 Connecting the Connectivity Plans in Asia and Beyond: International Cooperation for Expanded Supply Chains and Resilient Growth
Anita Prakash
Chapter 5 Digital Connectivity
Lurong Chen
Chapter 6 Hard Infrastructure Development
Takuya Fujita and Masahito Ambashi
Chapter 7 Geographical Simulation Analysis
Satoru Kumagai and Ikumo Isono
Part 2 Innovation
Chapter 8 Innovation System and Digital Transformation
Keita Oikawa
Chapter 9 Skill Development System: Soft Infrastructure for Leapfrogging and Feedback
Rashesh Shrestha
Chapter 10 Global Value Chain, Cities and Urban Amenities: Case Study of ASEAN and East Asia
Shandre Mugan Thangavelu, Fukunari Kimura, and Dionisius A. Narjoko
Chapter 11 Realising Smart Cities
Venkatachalam Anbumozhi
Chapter 12 The Role of Automotive Sector toward the Regional Economic Development
Fusanori Iwasaki and Yasushi Ueki
Part 3 Inclusiveness
Chapter 13 Inclusive Growth
Fauziah Zen
Chapter 14 MSME Responses to the COVID-19 Pandemic and Their Way Forward
Dionisius A. Narjoko
Chapter 15 Healthcare
Vanessa Yong
Chapter 16 Food and Agriculture
Masanori Kozono
PART 4 Sustainability
Chapter 17 Energy Infrastructure Development
Shigeru Kimura, Venkatachalam Anbumozhi, Han Phoumin, Alloysius Joko Purwanto, and Keisuke Ueda
Chapter 18 Environment and Sustainability
Venkatachalam Anbumozhi and Michikazu Kojima