Technological Advancement, Import Penetration, and Labour Markets: Evidence from Thai Manufacturing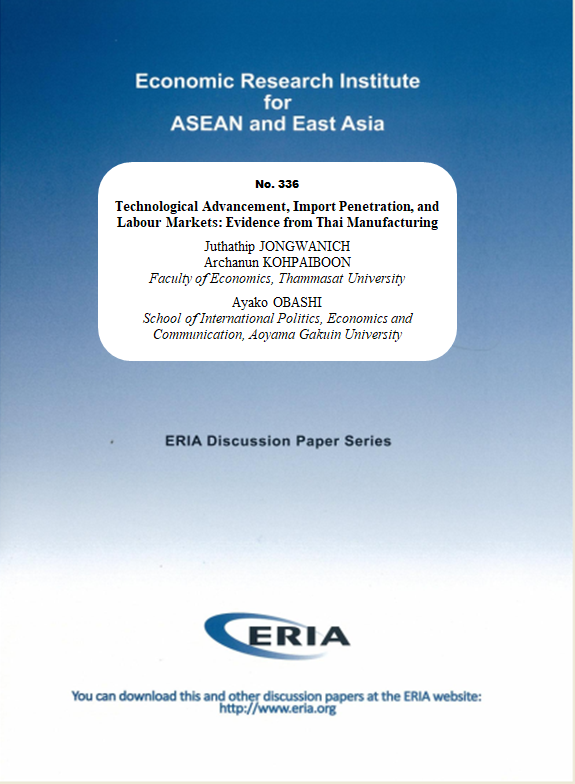 Tags:
Innovation and Technology, labour productivity, Thailand, Trade, Imports
This paper examines the impacts of advanced technology on a possible change in workers' skills, wages, and employment due to such technological advancement. Three proxies of advanced technologies are used in the study: (i) information and communications technology, (ii) intensity of robot use, and (iii) value of e-commerce. Our study compares the effects of technological advancements on labour market outcomes with import penetration, delineating into raw materials, capital goods, and final products. Our results show that in Thailand, the impact of advanced technology in pushing workers out of the job market is limited. Instead, it tends to affect reallocation of workers between skilled and unskilled positions. The results vary amongst proxies of technology and sectors. It seems that workers in comparatively capital-intensive industries, including automotive, plastics and chemicals, and electronics and machinery, are the most affected by advanced technology. Dampened wage/income is found only in some proxies of technology and sectors. Our results show less concern of negative impacts induced by imports, particularly imports of capital goods and raw materials, on employment status and income than technological advancement.
Technological Advancement, Import Penetration, and Labour Markets: Evidence from Thai Manufacturing