Production Networks in Southeast Asia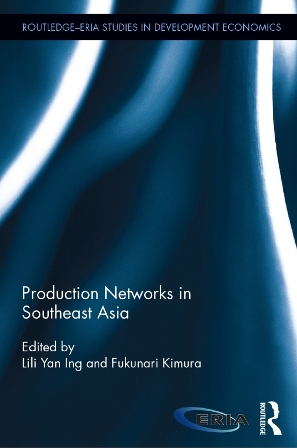 Tags:
global value chains, Trade, Labour and Migration, industry and manufacturing, Routledge
The book answers the recently topical questions of how China's processed trade affects the trade of Southeast Asia. What is Southeast Asia's role in Factory Asia, the region's complex of cross-border supply chains? What is Southeast Asia's involvement in building or joining production networks in the region? And, most importantly, how can Southeast Asia increase the value added of its products and improve its competitiveness?
The book provides rigorous analysis of how trade policy affects value added, highly disaggregated at the firm land product level, of six Southeast Asian countries and combines this with thorough examinations of their trade, industrial, and labour policies.
About the Book
Edited by Dr Lili Yan Ing and Prof Fukunari Kimura
304 pages | 77 B/W Illus.
Series: Routledge-ERIA Studies in Development Economics
Table of Contents
Introduction (Fukunari Kimura and Lili Yan Ing)
Global Value Chain Participation in Southeast Asia: Trade and Related Policy Implications (Javier Lopez-Gonzalez and Przemyslaw Kowalski)
The Impact of China's Trade on ASEAN's Trade (Miaojie Yu and Xiaomin Cui)
Imported Inputs on Indonesia's Product Variety and Quality (Lili Yan Ing and Chandra Triputra)
Trade in Value Added: The Case of Malaysia (Tham Siew Yean and Andrew Jia Yi Kam)
The Philippines in the Electronics Global Value Chain: Upgrading Opportunities and Challenges (Rafaelita Aldaba)
Singapore's Participation in Global Value Chains: Perspectives of Trade in Value Added (Mun-Heng Toh)
Thai Automotive Industry: International Trade, Production Networks, and Technological Capability Development (Patarapong Intarakumnerd)
Trade in Value Added: The Case of Viet Nam (Tri Thanh Vo, Anh Duong Nguyen and Trinh Bui)
'Policies for Industrial Progress' not 'Industry Policy': Lessons from Southeast Asia (Hal Hill and Archanun Kohpaiboon)
The Employment Effects of GVCs on Asian Countries and the Phenomenon of Value Added Erosion (Xiao Jiang and Jose Caraballo)
How Labour Market Policies Affect Innovation and Trade Competitiveness (Siwage Dharma Negara)
Developing Domestic and Export Markets and Levelling Up Trade in Value Added: Lessons Learnt (Ben Shepherd)
More Information
Click here to buy the book. Hardback and e-book version available.