Impact of the 2011 Floods, and Flood Management in Thailand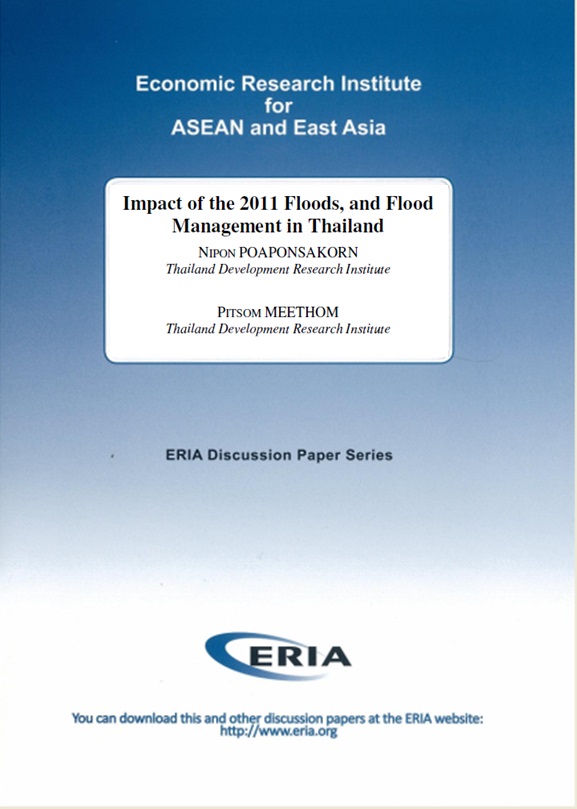 Tags:
Social Protection, disasters
This paper first describes the causes of the major flooding in Thailand in 2011, which include natural events, unregulated land-use patterns and flood mismanagement. It discusses the government's quick response in drafting a flood management master plan and allocating USD 11,290 million for assistance and compensation for flood victims, restoration of damaged property, and implementation of the master plan. The weakness of the master plan is also pointed out.The study goes on to develop the "difference-in-difference" method to estimate the impact of the flooding on household income and expenditure in 26 flooded provinces. It matches the addresses of flooded households taken from the 2011 Socio-economic Survey, which did not have questions regarding the impact of floods, with the flooded areas from satellite radar images. Quantile regressions are employed to quantify the differential impact of the flood on households with different income levels. The results show that the flooding reduced total household expenditures by 5.7% to 14%. These findings are consistent with the reported negative national GDP growth of 8.9 % in the fourth quarter of 2011 when Thailand was flooded. One interesting finding is that the 2011 floods had a significantly negative impact on the income and expenditure of middle and high income households, but that its impact on poor households was not statistically significant. The study also finds that the 2011 floods had a negative impact on the money and wage incomes of some middle income households living in the flooded areas. All estimated coefficients in the business income regression are not statistically significant. Comparing farmers' income in the 2011 Socio-economic Survey with that in 2009, the study also finds that the 2011 flooding had a large negative impact on the farm profits of some middle income households in the flooded provinces.Finally, the study discusses some policy implications, particularly weaknesses in the current information system for flood management.