ERIA Knowledge Lab Discusses Scaling Up Innovation and Digital Technology Ecosystem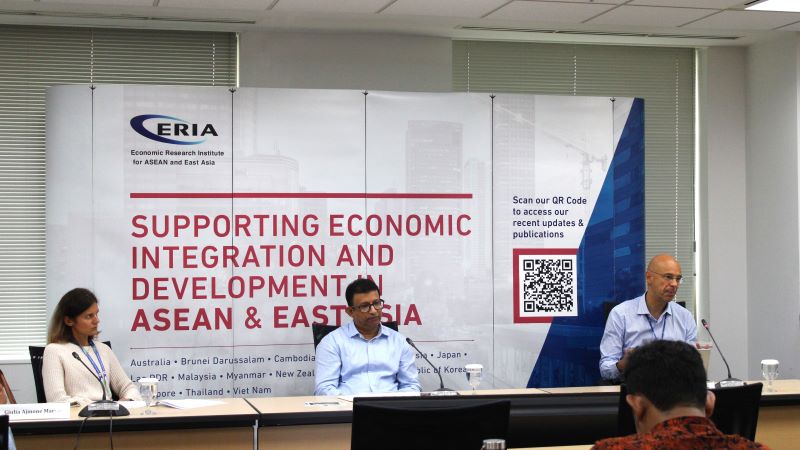 Jakarta, 27 July 2023: The Economic Research Institute for ASEAN and East Asia (ERIA) Entrepreneurship, Start-ups and Innovation (E-S-I) Knowledge Lab has held its first in-person meeting to discuss ways to navigate the digital transition and its challenges, as well as sharing insight on the current landscape of innovation and entrepreneurship initiatives from other regions.
Digital technology fuelled with new innovation can accelerate the inception, scaling and evolution of entrepreneurship. Digital technologies and innovation play a crucial role in transforming entrepreneurship by providing access to vast amounts of data, enabling automation and optimisation of processes, improving decision-making capabilities, and enhancing communication and collaboration. Therefore, building an entrepreneurial ecosystem which fosters the creation of digital technologies and innovation is vital.
The seminar was opened and moderated by Dr Giulia Ajmone Marsan, ERIA Director of Strategy and Partnership, who extended a warm welcome to all participants. She highlighted the opportunities for ecosystem builders to share knowledge on emerging technologies such as artificial intelligence (AI) and other digital tools, and underlined the importance of innovation strategy and the creation of an enabling environment for digital entrepreneurship.
Professor Alessandro Rosiello from the Business School of Edinburgh and Director of Innovation at the Edinburgh Future Institute (EFI) presented an overview of EFI's innovation strategy and its role as a local and global digital innovation hub. He spoke of the importance of academic institutions in inspiring the development of an entrepreneurial mindset and providing pathways to boost more 'tech-scalers'. Through the development of EFI, the institution aims to work with organisations across key sectors through a data driven innovation approach.
Sriganesh Lokanathan, Policy Fellow at LIRNEasia, an information and communication technology policy and regulation think-tank, spoke of the importance of implementing digital innovation to support global development, understanding its implications on society, and mainstreaming its use for social good. From his extensive work on leading data innovation and policy, he highlighted strategic collaborations focusing on developing digital platforms and, in particular, the resultant policy and regulatory needs. He said there is a need to balance digital innovation and the skills required to sustain the digital ecosystem.
Patricia Loh, Senior Analyst (Innovation Scaling) at the United Nations Global Pulse Finland, part of the UN Global Pulse Network, spoke on the journey supporting social innovation across the world. Global Pulse was built to support innovations moving from lab experimentation to implementation by many agencies, and to finally having a lasting impact in the wider world. As the journey of scaling up social innovation is considered a long expedition she highlighted some of the necessary equipment, including having vast technical knowledge, resource input, flexible funding, a structured process and a scaling strategy.