Analysis on Energy Saving Potential in East Asia Region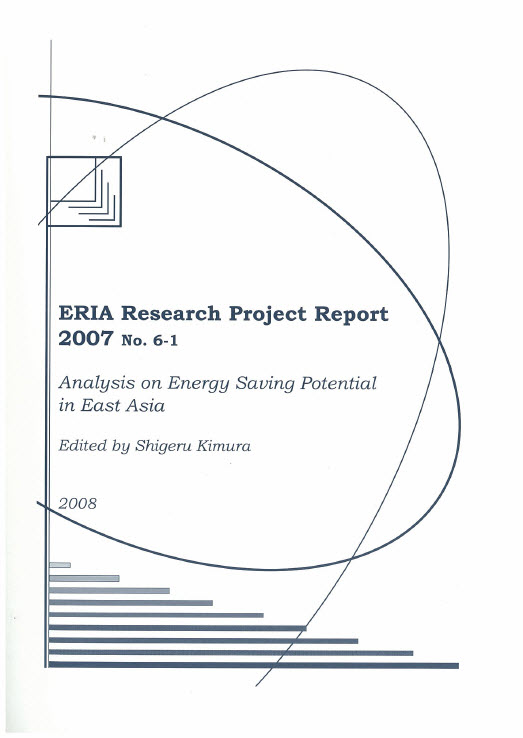 Tags:
Energy, Environment, Competitiveness
List of Project Members
Leader : Mr. Shigeru Kimura, Senior Research FellowThe Energy Data and Modelling Unit (EDMC, The Institute of Energy Economics, Japan (IEEJ).

Australia : Ms. Melanie Ford, Manager, Climate Change and Modelling Section, Australian Bureau of Agricultural and Resource Economics(ABARE).

Brunei Darussalam : Ms. Noor Dina Zharina Haji Yahya,Special Duties Officer, Energy Division, Prime Minister's Office.

Cambodia : Mr. Toch Sovanna,Deputy Director, Department of Energy TechniqueMinistry of Industry, Mines and Energy.

China : Mr. Gao Shixian,Assistant Director General, Energy Research InstituteNational Development and Reform Committee.

India : Dr. Pradeep Dadhich,Senior Fellow, Resources and Global Security DivisionTata Economic Research Institute (TERI).

Indonesia : Ms. Cecilya Laksmiwati Malik,Senior Researcher, Energy Planning Division,Agency for the Assessment and Application of Technology (BPPT).

Japan : Mr. Edito Barcelona - Senior Researcher, Mr. Akira Yanagisawa - Senior Researcher, Ms. Momoko Aoshima - Researcher, The Energy Data and Modelling Unit (EDMC, The Institute of Energy Economics, Japan (IEEJ).

Republic of Korea : Dr. Soo-Il Kim,Research Fellow, Energy Supply and Demand Analysis Division Energy Economics Institute (KEEI).

Lao PDR : Mr. Khamso Kouphokham,Chief, Administrative Division, Department of Electricity, Ministry of Energy and Mines.

Malaysia : Ms. Yuzlina Mohd. Yusop,Programme Manager, Policy Analysis and Research Management Division, Malaysia Energy Center.

Myanmar : Mr. Pe Zin Tun,Director, Energy Planning Department, Ministry of Energy.

New Zealand : Dr. Ralph Samuelson,Chief Advisor - Modelling,Energy Information & Modelling Group, Ministry of Economic Development.

Philippines : Ms. Elvira T. Gelindon,Senior Science Research SpecialistPolicy Formulation and Research Division, Energy Policy and Planning Bureau, Department of Energy.

Singapore : Mr. Ananda Ram Bhaskar,Head, Environmental Technology UnitNational Environment Agency.

Thailand : Mr. Boonli Sillavatkul,Director, Energy Information System development Division, Energy Policy and Planning Office, Ministry of Energy.

Vietnam : Dr. Nguyen Quoc Khanh ,Senior Researcher,Energy Economics and Demand Forecast Group, Institute of Energy.

Coordinator : Mr. Takuya Takahashi ,Deputy DirectorResearch Planning Division, Overseas Research Department, Japan External Trade Organization (JETRO).
Full Report
RPR-2007-6-1
Contents
Main Report
FOREWORD, ACKNOWLEDGEMENTS, MEMBER LIST, LIST OF TABLES, LIST OF FIGURES, LIST OF ABBREVIATIONS AND ACRONYMS
EXECUTIVE SUMMARY
1. INTRODUCTION
1.1 The East Asia Summit
1.2 Background
1.3 Rationale
1.4 Objective
1.5 Organization of the WG


2. DATA AND METHODOLOGY
2.1 Cases Examined
2.2 The Definition of Energy Savings Potential and Its Limitations
2.3 Data
2.4 Methodology


3. SOCIO-ECONOMIC AND ENERGY POLICY ASSUMPTIONS
3.1 Population
3.2 Economic Activity
3.3 Vehicle ownership
3.4 Electricity Generation
3.5 Use of Biofuels
3.6 Crude Oil Price
3.7 Energy Intensity (Primary Energy Demand/GDP) Goals
3.8 Energy saving Goals
3.9 Concluding Comments


4. ENERGY AND ENVIRONMENTAL OUTLOOK FOR THE EAST REGION
4.1 Energy Consumption
4.2 Carbon Dioxide(CO2) Emissions from Energy Consumption


5. CONCLUSIONS AND RECOMMENDATIONS
5.1 Conclusions
5.2 Recommendations