The Regional Comprehensive Economic Partnership Agreement and Europe: Impact and Implications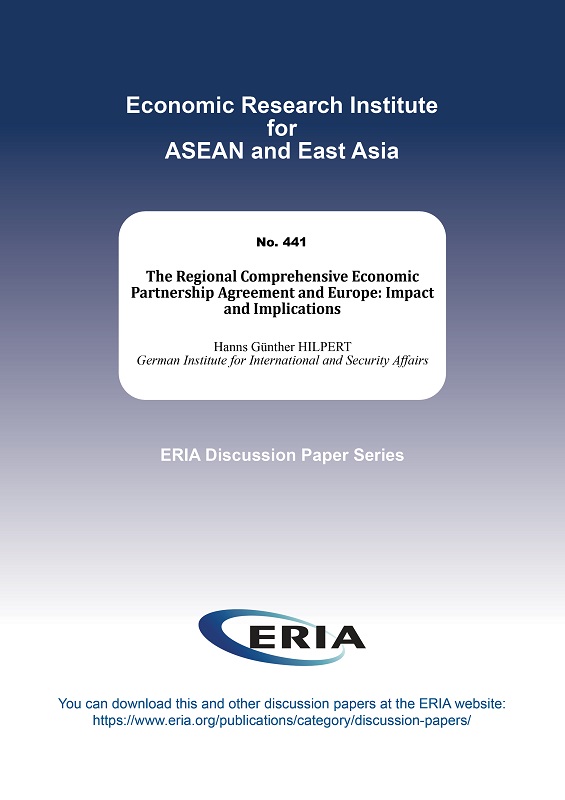 Tags:
Europe, European Union, RCEP, Trade, trade policy
In the first 2 decades of the millennium, European Union (EU) trade policy underwent historic changes, amongst them an explicit pivot to Asia. Along with continued firm support of the rules-based World Trade Organization (WTO)-centred multilateral trading system, important new directions in the EU's trade policy included a turn to competitive bilateralism, a strong focus on values, an ambition to protect and to promote European trade standards as well as the politicisation of trade policy. Asia's outwards looking economic growth, the increasing trade interdependence in Asia as well as the various bilateral and multilateral trade agreements in the region, notably amongst them the Regional Comprehensive Economic Partnership (RCEP), attracted the EU's attention, and have helped cause and drive these changes. There was no particular Asian influence on the EU's own regionalisation, however. Meanwhile, trade and investment relations between Europe and Asia have intensified greatly over this period. But the EU has been slow and late to formulate a comprehensive strategy for the Indo-Pacific region. In spite of some notable successes, the EU's trade policy remains fragmented with differentiated approaches for each trading partner.
Opinions on the RCEP's relevance and importance for Europe are divided. RCEP sceptics point to the overall shallow nature of the agreement. RCEP optimists emphasise the future potential of trade and investment integration within the newly established RCEP economic area and warn of the discriminatory effects for Europe's economy and businesses. So, Europe's business will have to invest in the new RCEP free trade zone to overcome trade diversion risks and to benefit from the RCEP market integration. More worrying from Europe's perspective is RCEP's potentially negative policy impacts: a relative loss in the EU's trading power, the risk of Europe being sidelined in the make-up of future trade rules, and RCEP's future impact on rules based multilateralism and the WTO. The EU has various trade policy options with regard to the Indo-Pacific trade area and RCEP in particular. The most promising options include the conclusion of free trade agreements with as many RCEP member countries as possible, with the Association of Southeast Asian Nations as a group (as a region-to-region agreement), with other trading partners (from the Indo-Pacific or from other world regions), or with the Comprehensive and Progressive Agreement for Transpacific Partnership area.
The Regional Comprehensive Economic Partnership Agreement and Europe: Impact and Implications