Achieving Financial Inclusion Through Technology and the Cloud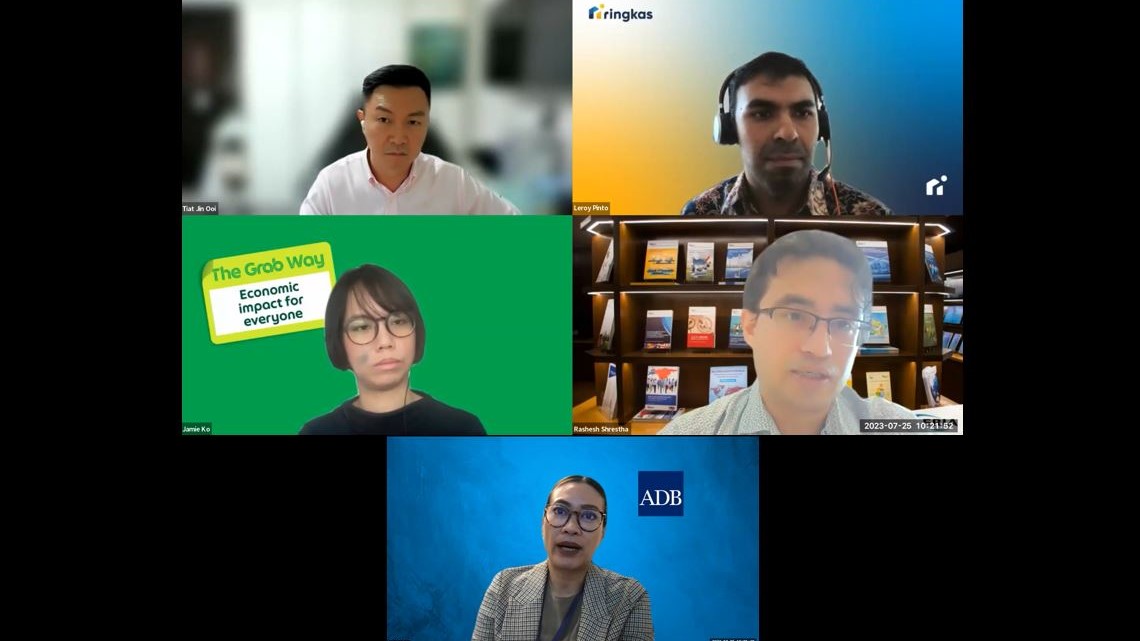 Jakarta/Singapore/Manila, 25 July 2023: The Economic Research Institute for ASEAN and East Asia (ERIA), the Asian Development Bank Southeast Asia Development Solutions (ADB SEADS) and Amazon Web Services (AWS), held a webinar on 25 July to explore how technology, including cloud adoption, has facilitated financial inclusion, the benefits it brings and the challenges which need to be addressed.
Over the years, technology has played a significant role in advancing financial inclusion by providing innovative solutions to overcome barriers such as distance, cost, and lack of infrastructure. The webinar took a deep dive into this, and brought together more than 150 online participants from across the Asia-Pacific region.
Lisette Cipriano, Senior Digital Technology, Finance Sector Office of ADB, began the webinar with a broad overview of how the advancement of technology has allowed both traditional and non-traditional financial services to flourish in the region. One of the benefits has been the enabling of real time access for data to accommodate the dynamic changes and demand from consumers. However, there are also challenges which need to be addressed, such as data protection, security, and regulatory aspects, therefore the role of policymakers and regulators in safeguarding consumer trust by providing clear and transparent regulations is imperative. She also highlighted the potential to leverage cloud technology to address climate change and build resiliency in the region.
Jamie Ko, Grab Director of Regional Public Affairs and Policy, spoke of her work in leading and working with multi-stakeholders to drive technology impacts for micro and small business. She noted the increasing demand across ASEAN to access digital financial services to scale-up small business – with millions of people going mobile for the first time during the pandemic. To support this, start-ups such as Grab are innovating so financial products and services are accessible for underserved communities. Digital and financial literacy remain the main issues to building people-centred financial inclusion, so strong partnerships and trust between digital financial providers, local champions and government are key to addressing them.
Leroy Pinto, founder of Ringkas, a newly established start-up which aims to digitize the mortgage process for homeowners, spoke of financial technology trends especially in Indonesia. He said the government and public have increasingly embraced changes driven by the private sector to promote a robust financial technology ecosystem, such as through integrated QR codes and digital payments. There are untapped opportunities to provide a simpler, safer, more secure transparent mortgage and loan process, especially to people living in remote areas in Indonesia. While there is now more freedom for consumers to access different financial technology tools, he said this should be balanced with a secure digital infrastructure.
Rashesh Shrestha, ERIA economist, spoke of the importance of e-governance for digital and financial services across ASEAN. From the perspective of digital literacy, he said there is still a significant gap between being able to access basic technology information and the ability to actively use digital tools for business. This is especially apparent in rural areas, where there is often a low demand or need to use digital and financial technology. Therefore, integrating a tailored approach so the technology is accessible and relevant for local business is important. He also highlighted the importance of skills and capabilities to build a well-designed and secure financial system for all providers and consumers.
The webinar was moderated by Tiat Jin (TJ) Ooi, Principal Consultant, Curated Connectors. During the Q&A session, participants discussed ways to improve financial literacy, especially for small business owners, managing the risks of digital technology, and the shared role between the private and public sectors to enhance financial inclusion across the region.