Global Dialogue on Women and Digital Entrepreneurship Featured in UNCTADs eCommerce Week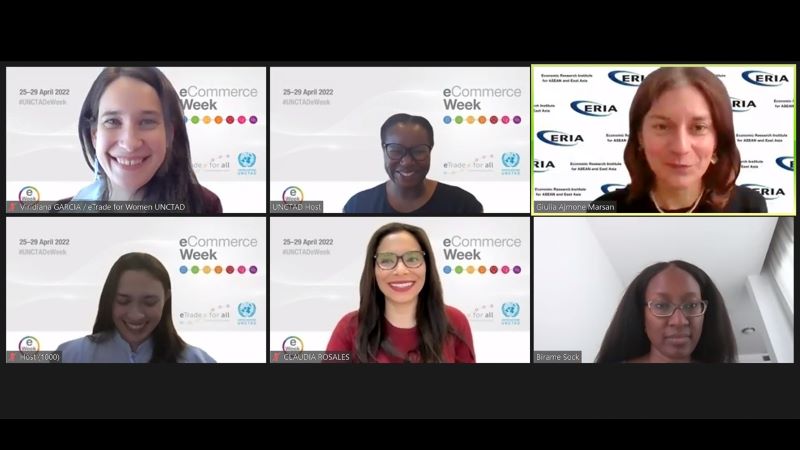 Jakarta, 28 April 2022: The COVID-19 pandemic has catalysed digital transformation and offered opportunities for developing and emerging economies. However, despite the rapid economic growth generated by robust technologies and digitalisation, inequalities remain in many countries, including women's participation in the digital economy. Data show that reducing gender gap in the digital space will not only benefit women but also contribute to societies and economies. Thus, cooperation amongst stakeholders is pivotal to narrow the gender divide and provide women larger access and opportunities in the digital economy.
As part of the eCommerce Week organised by the United Nations Conference on Trade and Development (UNCTAD) and eTrade for All, the Economic Research Institute for ASEAN and East Asia (ERIA) co-organised How Can Women Digital Entrepreneurs Boost Inclusion? Peer-learning Dialogue Across Regions, a thematic session held on 28 April 2022 to discuss challenges, opportunities, and new approaches to forward-looking strategies on sustainability in the region. ERIA is a partner of eTrade for All. The session was part of a series of events highlighting the positive impact of promoting inclusive digital economies.
To highlight the importance of female entrepreneurship in the digital ecosystem to promote inclusivity, the session was participated in by leading women entrepreneurs from Southeast Asia, Latin America, and Africa and moderated by Dr Giulia Ajmone Marsan, ERIA's director for strategy and partnership.
Opening the session was Ms Garcia-Quiles Viridiana, programme management officer of eTrade for Women at UNCTAD, who pointed out that women lag behind men in participation in the digital economy. She added that narrowing the gender divide in the digital economy is pivotal to boost inclusive economic development. She enumerated three key strategies to close this gap: boost digital skills for girls and women to engage in science, technology, engineering, mathematics (STEM) area; promote more women leaders to become role models for other women; and support inclusive digital businesses in providing women-led businesses with a platform to connect and grow as reflected in the eTrade for Women programme by UNCTAD.
Ms Aimi Ramlee, director of digital innovation and growth at Tyne Solutions and co-founder of the SoutheastAsiaWomen.org, discussed the digital economy ecosystem for women in Southeast Asia. She said that limitations of the digital ecosystem and infrastructure have become some of the main barriers over the years for some countries in Southeast Asia. She added, however, that the COVID-19 pandemic has accelerated the push towards digitalisation and may provide more opportunities for women's participation. With this positive development, she also noticed that more targeted government policies have been created in the region to serve a better digital ecosystem for leveraging women's participation in the digital economy. Ms Ramlee also shared information on SoutheastAsiaWomen.org, an organisation that provides mentorship programme amongst women in the region.
Ms Birame Sock, founder and chief executive officer (CEO) of Kwely Inc, shared her experience building a start-up in Senegal, Africa. She conveyed the need to build a more conducive business ecosystem rather than focus on building digital infrastructure in Africa. She also cited the importance of access to digital resources, skills, and entrepreneurial mindsets to enable more involvement of women in the digital economy. She weighted the importance of women supporting women to break the gender bias and provide a more supportive working environment for women.
Ms Claudia Rosales, founder and CEO of Women Ework, shared her experience building her human resource company in Latin America, and its objective of creating a talent pool to support women in building back a better future as too many had lost their jobs during the pandemic. She underscored the importance of enhancing and empowering leadership skills for women through different activities including training, workshops, and dialogues. She also shared her experience as a member of UNCTAD's eTradeforWomen programme, which enabled her to better understand how women can overcome challenges, to take utmost advantage of what the digital economy ecosystem offers, to enhance her entrepreneurship skills, and to gain more networks and visibility in the digital world.
Ms Poornima Jayawardana, financial sector specialist at the Asian Development Bank (ADB), stated that accelerating the progress of gender equality and promoting women's economic empowerment have been some of ADB's priorities towards 2030. She shared some ADB strategies to promote inclusivity, including promoting innovative technology, committing to support countries across Asia and the Pacific in developing and improving their regulatory frameworks, providing technical assistance and knowledge work in ensuring that women and girls are equitably benefitting from jobs and investment across Asia and the Pacific, as implemented, for instance, in the Eastern Indonesia Financial Innovation Lab, which helps women entrepreneurs access financial services. She mentioned ADB's key lessons in promoting inclusive economic development in the post-recovery period, including the commitment to eradicate the gender gap, provide more opportunities for women in STEM and information communication technology, provide better digital literacy and infrastructure, and apply a social-norm approach to break stereotypes of women.