Robots and AI: A New Economic Era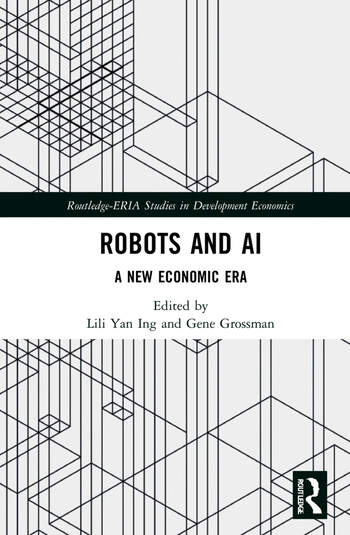 Tags:
Technology, Innovation, computer science, business industry
Robots and artificial intelligence (AI) are powerful forces that will likely have large impacts on the size, direction, and composition of international trade flows. This book discusses how industrial robots, automation, and AI affect international growth, trade, productivity, employment, wages, and welfare. The book explains new approaches on how robots and artificial intelligence affect the world economy by presenting detailed theoretical framework and country-specific as well as firm-product level-specific exercises.
This book will be a useful reference for those researching on robots, automation, AI and their economic impacts on trade, industry, and employment.
The Open Access version of this book, available at
https://www.taylorfrancis.com/books/oa-edit/10.4324/9781003275534/robots-ai-lili-yan-ing-gene-grossman?context=ubx , has been made available under a Creative Commons Attribution-Non Commercial-No Derivatives 4.0 license.
About the book
Edited by Lili Yan Ing, Gene M. Grossman
370 Pages 50 B/W Illustrations
Series: Routledge-ERIA Studies in Development Economics
Table of Contents
Introduction Lili Yan Ing and Gene M. Grossman
The Effects of Automation on Labor Demand: A Survey of the Recent Literature Philippe Aghion, Céline Antonin, Simon Bunel, and Xavier Jaravel
Robots, Offshoring, and Welfare Alessandra Bonfiglioli, Rosario Crinò, Gino Gancia, and Ioannis Papadakis
On the Employment Consequences of Automation and Offshoring: A Labor Market Sorting View Ester Faia, Sébastien Laffitte, Maximilian Mayer, and Gianmarco Ottaviano
The Impacts of AI, Robots, and Globalization on Labor Markets: Analysis of a Quantitative General Equilibrium Trade Model Taiji Furusawa, Shoki Kusaka, and Yoichi Sugita
Telemigration and Development: On the Offshorability of Teleworkable Jobs Richard Baldwin and Jonathan I. Dingel
Immigration and Regional Specialization in AI Gordon Hanson
Robots and Trade: Implications for Developing Countries Erhan Artuc, Paulo Bastos, Alexander Copestake, and Bob Rijkers
Automation in Indonesia: Productivity, Quality, and Employment Lili Yan Ing and Rui Zhang
AI, Trade, and Creative Destruction: A First Look Ruiqi Sun and Daniel Trefler