Reframing of Global Strategies and Regional Cooperation Pathways for an Inclusive Net-Zero Strategy in the Energy Transition Framework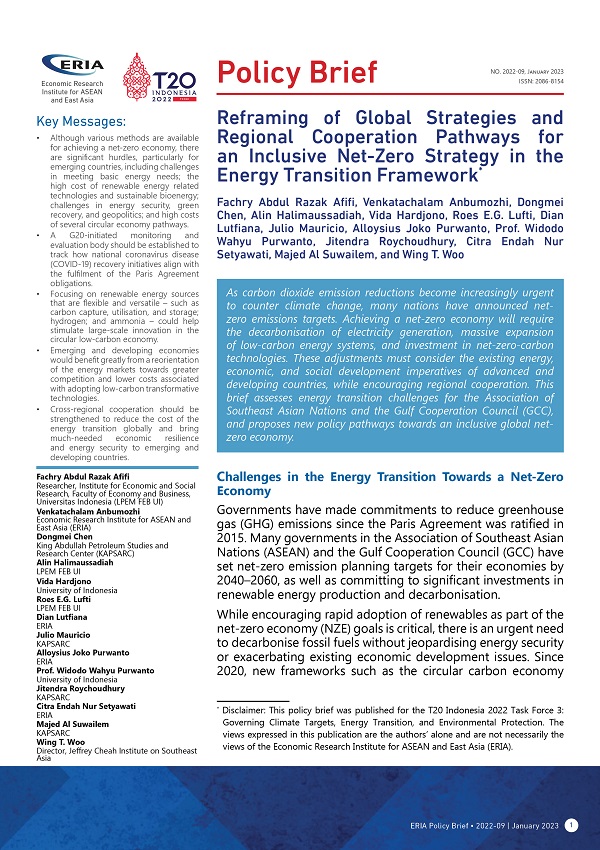 Tags:
Energy, Climate Change, ASEAN
As carbon dioxide emission reductions become increasingly urgent to counter climate change, many nations have announced net-zero emissions targets. Achieving a net-zero economy will require the decarbonisation of electricity generation, massive expansion of low-carbon energy systems, and investment in net-zero-carbon technologies. These adjustments must consider the existing energy, economic, and social development imperatives of advanced and developing countries, while encouraging regional cooperation. This brief assesses energy transition challenges for the Association of Southeast Asian Nations and the Gulf Cooperation Council (GCC), and proposes new policy pathways towards an inclusive global net-zero economy.
Reframing of Global Strategies and Regional Cooperation Pathways for an Inclusive Net-Zero Strategy in the Energy Transition Framework