ERIA FRAMES | September 2018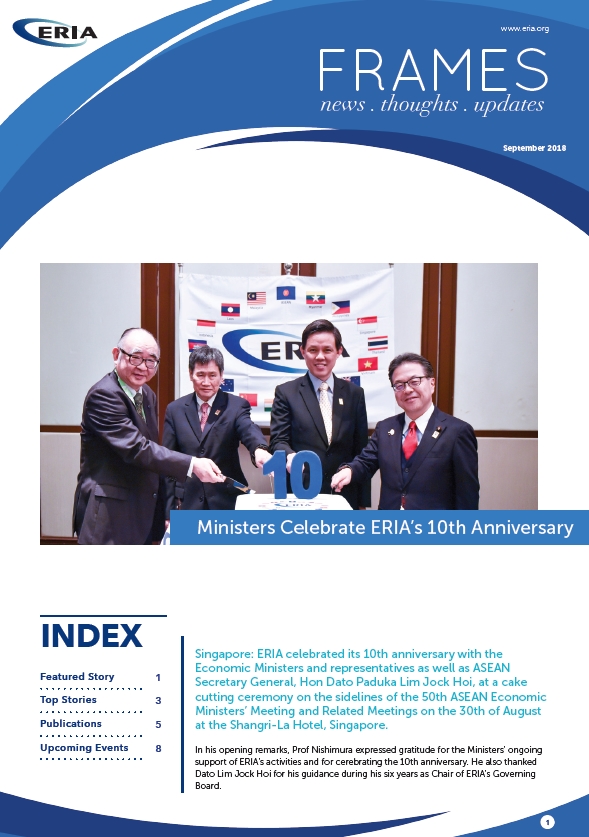 Singapore: ERIA celebrated its 10th anniversary with the Economic Ministers and representatives as well as ASEAN Secretary General, Hon Dato Paduka Lim Jock Hoi, at a cake cutting ceremony on the sidelines of the 50th ASEAN Economic Ministers' Meeting and Related Meetings on the 30th of August at the Shangri-La Hotel, Singapore. Read more.
ERIA and United Nations Economic and Social Commission for Asia and the Pacific (UN ESCAP) held a Joint Policy Dialogue on 23 August 2018 in Jakarta to discuss the results of ESCAP's Economic and Social Survey of Asia and the Pacific 2018. Read more.
The Selection Committee Meeting of the 4th Asia Cosmopolitan Awards (ACA) was held on 30 July 2018 in Tokyo, Japan to select award finalists from 21 candidates nominated by the Recommendation Committee. Read more.
Click here to read the PDF version with the latest stories, publications, and events.
Click here to subscribe to ERIA Frames.