ERIA FRAMES | September 2017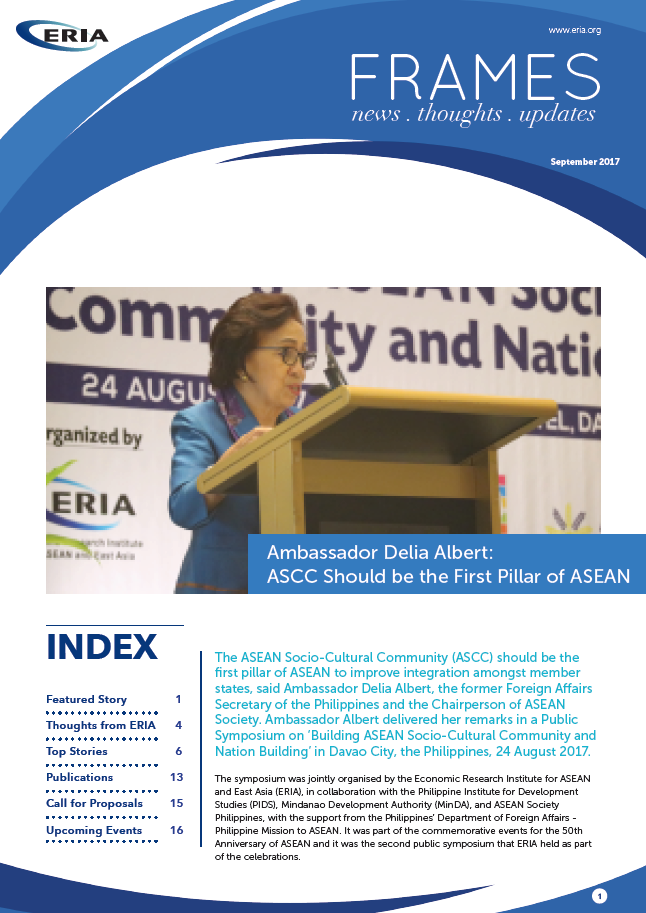 The ASEAN Socio-Cultural Community (ASCC) should be the first pillar of ASEAN to improve integration amongst member states, said Ambassador Delia Albert, the former Foreign Affairs Secretary of the Philippines and the Chairperson of ASEAN Society. Ambassador Albert delivered her remarks in a Public Symposium on 'Building ASEAN Socio-Cultural Community and Nation Building' in Davao City, the Philippines, 24 August 2017. Read more.
China's Belt and Road Initiative (BRI) increasingly dominates headlines across Asia, with opinions about how Asian, African, and even European countries can partake in manners that benefit their own regions. However, the Middle East, the region that seems key to the success of many of these linkages, rarely appears in the discussions. Thus it was with great appreciation that on 10 August ERIA was able to host a discussion on the subject with Prof Nader Habibi, the Henry J. Leir Professor of Practice in the Economics of the Middle East at Brandeis University's Crown Center for Middle East Studies, Massachusetts. Read more.
The Foreign Ministers of East Asia Summit countries acknowledged the contributions of ERIA towards the economic integration and development of the Southeast and East Asian countries, as stated in the Chairman's Statement of the 7th East Asia Summit Foreign Ministers' Meeting. Read more.
Click here to read the online version with the latest stories, publications, and events.
Click here to read and download the PDF version.
Click here to subscribe to ERIA Frames.