Economic Policies to take Advantage of the Vigorous Private Dynamism in AMS and India during the COVID-19 Crisis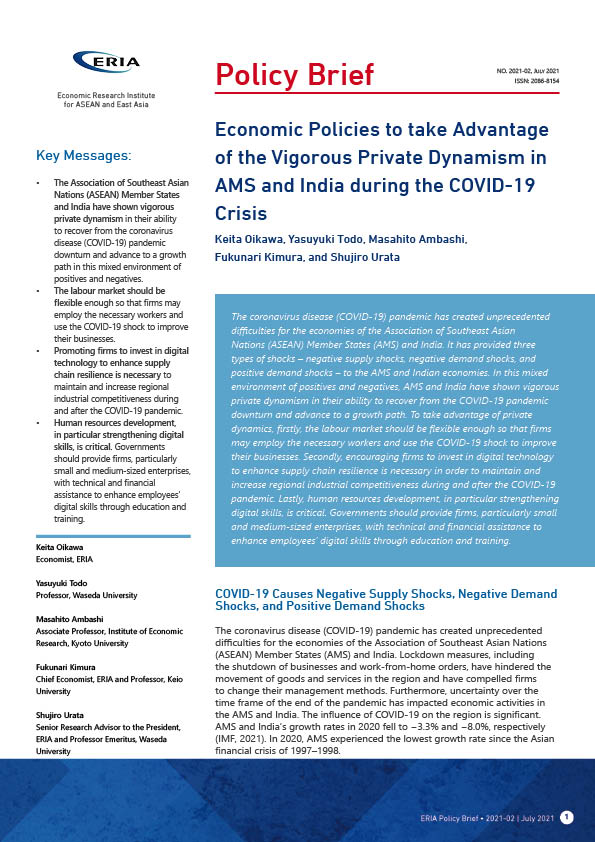 Tags:
COVID-19, ASEAN, India, Human Capital
The coronavirus disease (COVID-19) pandemic has created unprecedented difficulties for the economies of the Association of Southeast Asian Nations (ASEAN) Member States (AMS) and India. It has provided three types of shocks – negative supply shocks, negative demand shocks, and positive demand shocks – to the AMS and Indian economies. In this mixed environment of positives and negatives, AMS and India have shown vigorous private dynamism in their ability to recover from the COVID-19 pandemic downturn and advance to a growth path. To take advantage of private dynamics, firstly, the labour market should be flexible enough so that firms may employ the necessary workers and use the COVID-19 shock to improve their businesses. Secondly, encouraging firms to invest in digital technology to enhance supply chain resilience is necessary in order to maintain and increase regional industrial competitiveness during and after the COVID-19 pandemic. Lastly, human resources development, in particular strengthening digital skills, is critical. Governments should provide firms, particularly small and medium-sized enterprises, with technical and financial assistance to enhance employees' digital skills through education and training.
Economic Policies to take Advantage of the Vigorous Private Dynamism in AMS and India during the COVID-19 Crisis