Chained to Sustainable Development Goals? The Changing Role of Entities for Enhanced Resilience along Agriculture Food Value Chains in Thailand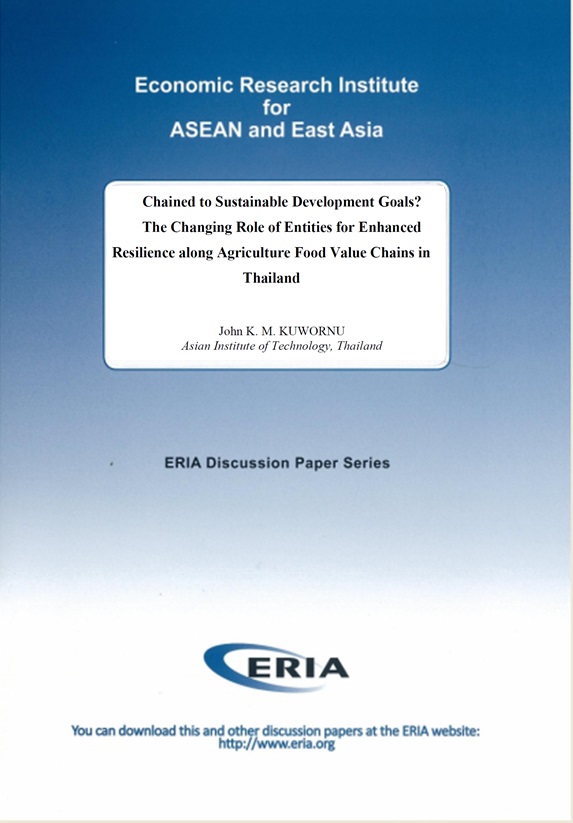 Tags:
Thailand, Agriculture, Food Security
The operation period of the Millennium Development Goals (MDGs) ended in 2015, and the Sustainable Development Goals (SDGs) will be in operation in 2016-2030. The sustainable development agenda contained 17 goals and covered a broad range of quantitative and qualitative objectives across social, economic, and environmental dimensions of sustainable development. These include (i) ending poverty and hunger, (ii) sustainable consumption and production, (iii) improving health and education, (iv) making cities more sustainable, (v) combating climate change, and (vi) protecting oceans and forests. Sustainable food production, marketing, and other post-harvest management practices are important to achieving majority of the SDGs.
This paper examines the required changing roles of private and public organisations, as well as international organisations, in 2016-2030 to enhance resilience of agricultural food value chains in Thailand. The Sufficiency Economy Philosophy (SEP) of Thailand is a growth and development model characterised by its universality and inclusiveness; people-centred approach; moderation, moral values, and reasonableness; and knowledge and integrity. The SEP encourages a holistic farm management system to promote sustainability, food security, water conservation and biodiversity, development of human resources, risk management, investment, and expansion of businesses, thereby creating self-sufficiency at the household, community, organisational, and national levels. These objectives of the SEP are somewhat consistent with Goals 1, 2, 8, 9, 12, 13, 14, and 15 of the SDGs. The required roles of organisations to enable Thailand to achieve the SDGs towards enhancing the resilience of agricultural food value chains are presented, and the policy implications are highlighted.