ASEAN on Point Public Forum: Preparing ASEAN Workforce for Post-COVID-19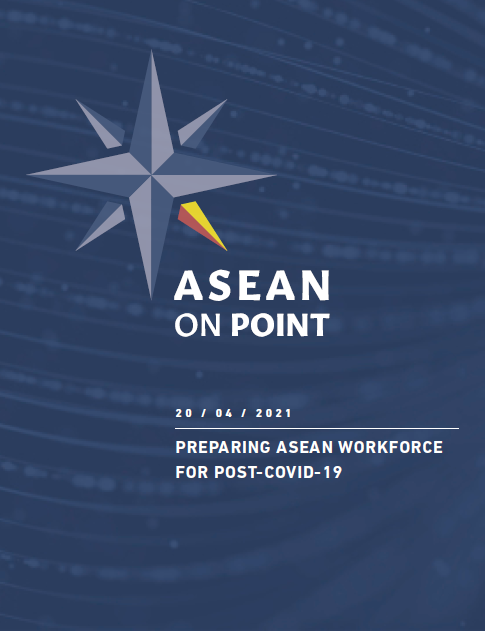 The digital and technological transformation and Fourth Industrial Revolution (Industry 4.0) bring implications to the economies, industries, and employment across ASEAN. Job creation or transformation, innovations, evolving job categories/ descriptions, intensified productivity, skills gap, adaptability of human resources and education to the changing labour market demands, life-long learning culture through up-skilling and re-skilling, and new forms of employment relations are some of the emerging issues that need to be addressed. Especially in light of the impact of COVID-19 on the ASEAN socio-economic spheres, ASEAN needs to manage the transition by preparing its human resources for the future of work. Skills development through Technical and Vocational Education and Training (TVET) and life-long learning are key to building back better. With the capacity of TVET to rapidly respond to changing labour markets, it has the potential to (i) support employment opportunities, (ii) increase competency and productivity, (iii) improve the income of workers, (iv) promote enterprise competitiveness, (v) heighten job security, and (vi) support digital skills to advance in line with Industry 4.0.
In this view, ASEC and ERIA, in coordination with the Department of Education (Dep-Ed) of the Philippines who is also the Chair of the ASEAN Senior Officials Meeting on Education (SOM-ED) jointly organised a special episode on TVET titled 'Preparing ASEAN Workforce for Post-COVID-19'. This forum also served as the 3rd episode of the 2021 ASEAN and SEAMEO Month Webinar Series, the initiative spearheaded by the Dep-Ed Philippines, aimed at providing a platform for sharing regional policy responses related to the COVID-19 pandemic. Over 500 participants joined the conversation with a panel of experts:
Ms Rosanna A. Urdaneta, Deputy Director General for Policies and Planning of the Technical Education and Skills Development Authority (TESDA), Philippines
Mr Ingo Imhoff, Programme Director, Regional Cooperation Programme in TVET (RECOTVET)
Mr Eugene Ho, Head of Corporate Social Responsibility, East Asia & Pacific, SAP
Ms Huynh Thanh Tam, Product Measurement Consultant, Product Quality Department, Bosch Vietnam Co., Ltd
Moderated by Dr Rashesh Shrestha, ERIA Economist.
Welcoming remarks were delivered by:
H.E. Kung Phoak, Deputy Secretary-General ASEAN Socio-Cultural Community
Mr Jesus Lorenzo R. Mateo, Undersecretary for Planning, Human Resources and Organizational Development, and Field Operations of the Department of Education Philippines, Chairperson of the ASEAN Senior Official Meeting on Education (SOM-ED)
Download Report
'ASEAN on Point' Public Forum Preparing ASEAN Workforce for Post-COVID-19
AoP Tvet Report by Economic Research Institute for ASEAN and East Asia on Scribd
Event Recording